our products
CHATEAU MONBAZILLAC

Monbazillac is one of the most famous dessert wines of France, known since the 14th century. The Dutch discovered it eas early as the 17th century when many Huguenots fled to Holland after the revocation of the Edict of Nantes in 1685. The vineyards, spread out over the southern slopes of the Dordogne valley, enjoy a temperate climate, favourable to the development of the noble rot caused by Botrytis cinerea, crucial to the production of the best dessert wines.
Château de Monbazillac is a listed building dating from the 16th century. It has belonged to the Cave de Monbazillac since 1960, and has a unique architecture combining medieval defences with Renaissance elegance. The château is located right in the heart of the vineyards which bear its name, and the view from its terraces provides an extraordinary panorama of the Dordogne valley.
CHATEAU MONBAZILLAC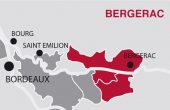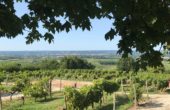 grape varieties
63% Semillon, 27% Sauvignon, 10% Muscadelle
winemaking and ageing
Sélection parcellaire. Ramassage par tries successives manuelles, vinification traditionnelle en fût de chêne pendant 16 mois. Mise en Bouteille : au Château.
food pairings
Apéritif, foie gras, roquefort, tourtière aux pommes Température de Service : 8 à 10°C.
tasting
Selection of vineyard plots. Harvests with successive selections. Traditional winemaking methods in new oak barrels. Ageing in oak barrels. Intense yellow robe. Rich and expressive nose with notes of candied fruit, vanilla and apricot. Harmonious and powerful on the palate.