our products
DUC DE CASTELLAC


The Bergerac appellation is situated in the south of the Dordogne region. Ideally located on the hillsides of the Dordogne valley, sheltered from the maritime influence, the Bergerac Rouge appellation enjoys a particularly favourable climate. This yields enjoyable wines, both elegant and authentic, and the diversity in the vineyards brings variety and richness. This appellation is used for red wines which are lighter than the Côtes de Bergerac reds. Made from a blend of the traditional grape varieties, these wines are supple, elegant and fruity.
Duc de Castellac is an easy-drinking wine for sharing, a modern range of very lightly oaked fruit-driven wines. The château on the label is the Maison de Peyrarède, a Bergerac mansion which belonged to a rich business family. Louis XIII once spent a night there. Widely appreciated through Europe, the wines of Bergerac go hand in hand with the humanism of Montaigne and his fellow essayist La Boétie. Later they were to inspire Cyrano with his verve and gallantry. Available in Bergerac red, rosé, dry white, CBM and Montbazillac... and now the range has been extended to include Médoc and Lussac Saint-Emilion.
DUC DE CASTELLAC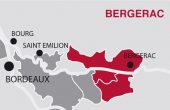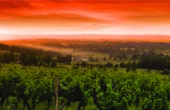 grape varieties
80% Merlot, 20% Cabernet sauvignon
winemaking and ageing
Single or double Guyot pruning, tillage on one row out of two, weeding only under the row. Vinification in stainless-steel tank, micro-oxygenation during fermentation between 25 and 27°C, long maceration to extract the tannins. Malolactic fermentation, racking, then 12 months in French oak barrels (40% new, 30% 1-year, 20% 2-year, 10% 3-year).
food pairings
Serve at room temperature, after several years ageing in bottle. This wine goes wonderfully with slow-roast shoulder of lamb or a good joint of meat.
tasting
A very good quality wine with a deep garnet red colour. Expressive on the nose, with notes of ripe fruit and intense oak. Full-bodied and generous on the palate. Good ageing potential.