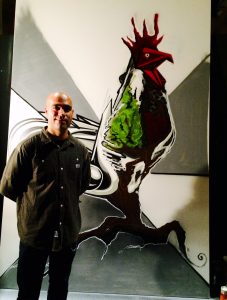 Art et Wine
Product'Art 2015 // third work in the series by spray-can artist Zarb of Full Colour. This canvas follows the "Three Graces" by Yann Muller and "Magnum Product'Art" by Manu Mazaux . . .
Product'Art is a brand born of an encounter between Producta Vignobles and Manu Mazaux in 2012. The adventure started with the order of a 2.5-metre-high magnum from the collage artist, who spent 300 hours reproducing the Producta Vignobles universe in collage.
Producta Vignobles wanted to bring this work to life on a bottle of its precious nectar, the wine being selected coming from a firm favourite in Lussac Saint-Émilion.
The operation was repeated in 2013 with Yann Muller who re-interpreted the Three Graces for Producta Vignobles. This time a Médoc was selected to pay homage to this pop artist from Soulac-sur-Mer.