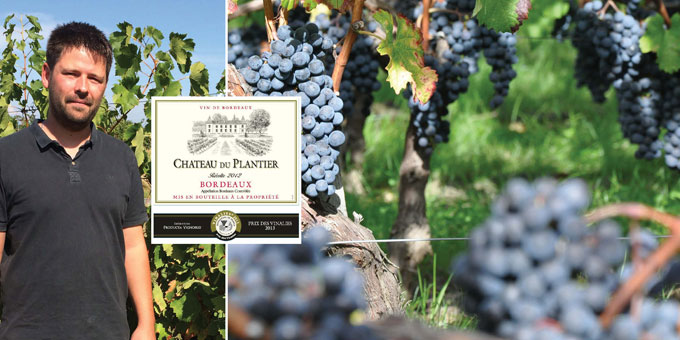 Portrait of
Fabien Lavergne
Owner of Château
du plantier
« La cave
coopérative est créative
et réactive ! »
IN THE HEART OF THE BORDEAUX REGION, THE LAVERGNE FAMILY HAVE BEEN WINEGROWERS AND MEMBERS OF THE SAUVETERRE DE GUYENNE CO-OPERATIVE FOR SEVERAL GENERATIONS. FABIEN LAVERGNE, 32, RECEIVED US AT CHÂTEAU DU PLANTIER WHICH TAKES ITS NAME FROM THE 16 HECTARES OF VINEYARD PLANTED ALL AT ONCE
IN THE 1970S.
Interview with this young, dynamic and professional owner, who has invested in his vocation as a co-operative winegrower.
Fabien, can you present your vineyard?
«The property covers 104 hectares, spread out over Sauveterre de Guyenne, Saint Sulpice, Saint Léger and Saint Martin du Puy. I am in business with my father and an uncle. Here we grow Cabernet Franc, Merlot, Sauvignon and a little Muscadelle. I work with 8 people in winter and 15 people for the green harvesting.»
You manage a good team; what was your career path?
«Before arriving in 2009, I was in charge of quality for a château in Lignan de
Bordeaux.I then took over Château du Plantier to be able to run my own château and grow my grapes with complete independence. Today I am a committed director of the Sauveterre co-op; I like making decisions. Being owner of a vineyard is a real lifestyle choice.»
How does that work within the co-operative?
«I have invested in it! In particular, I am part of the Agri Confiance committee that put the green plan in place. We define investment priorities, set standards and assist members in the implementation of this approach (development of places for storage of sprays, establishment of wash areas…).»
So it is real team work!
«Yes, belonging to a co-operative is above all about sharing skills. And it also allows several generations to meet. This means that winegrowers are less isolated and can help one another.»
You are part of the "younger generation" of members; what is your vision of the co-operative?
«We are investing in modernising our facilities and working with our clients to be able to respond precisely to their requirements. Optimising production means allowing Producta Vignobles to offer its clients products at the heart of the market. The co-operative is creative and responsive!»
What are the projects for the future?
«We want to keep hold of our members and help young producers become established. We need to communicate the advantages of the co-op. Our facilities are efficient, there are real technical skills within the team, so we should not be afraid to put them forward!»