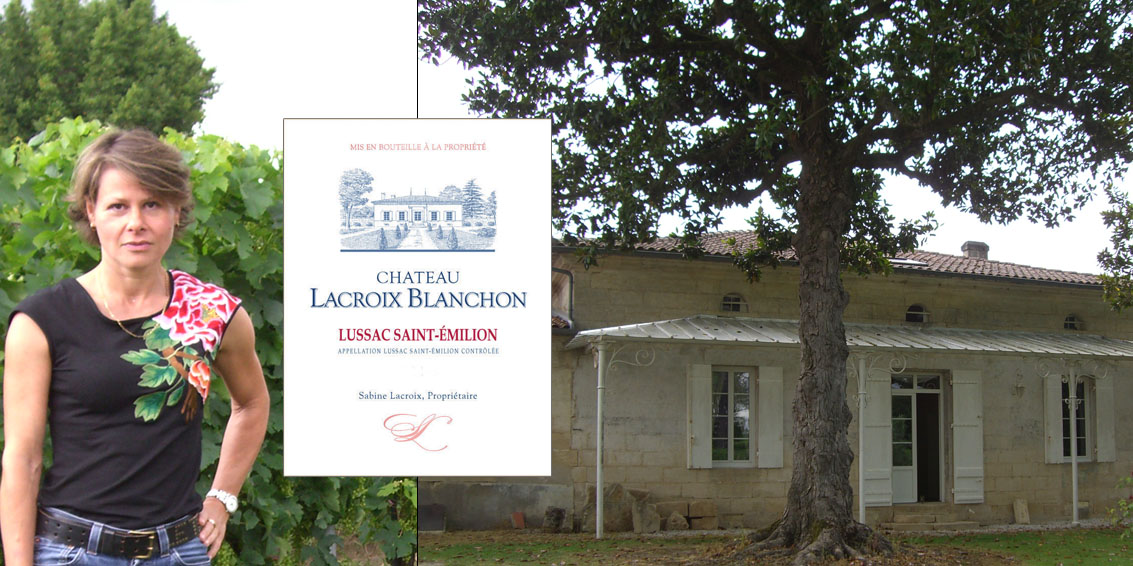 Portrait of
Sabine Lacroix
Owner of Château
Lacroix Blanchon
Château Lacroix Blanchon is located in the commune of Lussac Saint Emilion, in Blanchon. The estate of 7.48 hectares is planted with merlot and cabernet franc grape varieties planted in clay-limestone soils.
Sabine Lacroix, winegrower and member of the co-op of Puisseguin Lussac Saint Emilion, with her exuberant smile and energy, welcome us to her home.
Sabine, your estate is magnificient, how long have you been living here?
"It was in 1999 that I bought this stately building, dating back to 1820, from a leading medical family. I restored the building to their former glory and gave back life to the estate by replanting the vines, where one century earlier those of domain Grandchamp were cultivated."
What drove you to invest in such an ambitious project? 
"I am the daughter of winegrowers, I grew up in the vineyard, so it was natural for me to contribute to the development of our heritage by the purchase of this land."
What difference does it make to be a women in the winemaking sector?
"In fact, there are not many of us. However, being a man or a woman doesn't change anything in our relations with others or with the wine. For me, the important thing is to take on good people and train complement teams."
Why did you not develop your own winery? 
"My grandfather contributed to the creation of the cave of Puisseguin Lussac Saint Emilion, my father was Director, my brother invested in it, so the co-op is in the soul of our family. The co-op is a big family. Behind the cellars there are the winegrowers, ther is life ! Also, wine cooperatives have developed very wellin recent years and invested a lot in winemaking equipment. The team at the cellar is also very efficient, its objective being to get the best out of our production. It is notably thanks to his determination that Producta Vignobles has been able to market quality products that have contributed to the development of the reputation of the communal appellations of Saint Emilion."
Sustainable development is a real issue for our viticulture, have you invested in this?
"Since the middle of the 1990s I have been working with a private technician to achieve integrated farming. We have invested in the tools that allow us to avoid some treatments, and allow us to spray only when it is necessary. Now we are installing solar panels to reduce our energy consumption"
"My objective is to preserve our heritage and keep up what I developed up till now. The cooperative cellar bring values of solidarity and development which have always been sustained. They give reassurance to the producers, and it is important to communicate about technical develoments and commitments to sustainable development a food safety (agri-confiance) so as to demonstrate that the coop is and the cutting edge of vinification."