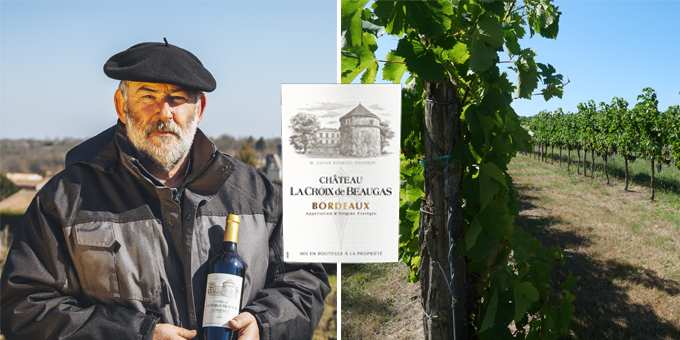 Portrait of
Xavier Doublet
Owner of Château
La Croix de Beaugas
The sun rises over the village of Rauzan, in the heart of the Entre-Deux-Mers. A land whose highly privileged geographical situation gives birth to wines with infinite nuances. For more than thirty years, the Doublet family has cultivated the love of a job well done. 
Who is Xavier Doublet?
Never without a beret on his head – not in homage to the Basque Country but because it has been worn by generations of winegrowers here – Xavier Doublet always speaks of his vineyard with love and passion in his voice…
Just like the neighbouring cooperative cellar, that opted for biodiversity more than a year ago now. Just like Xavier Doublet, the producer, who has not used chemical fertiliser for around fifteen years. Supported and advised by technicians from the chamber of agriculture, this winegrower, combining tradition and innovation, pays particular attention to environmental issues. By preferring natural solutions and limiting sprays to an absolute minimum, for example. Furthermore, all of the vineyard has had Agri Confiance® certification for 3 years.
What are the vineyard's characteristics?
A land whose highly privileged geographical situation gives birth to wines with infinite nuances. Wines that can be round and fleshy, tannic and generous, and which give pleasure to the finest connoisseurs and wine lovers alike. It is there that Château La Croix de Beaugas was born, in the heart of this internationally renowned vineyard located alongside the Atlantic Ocean and crossed by the Garonne and the Dordogne. The fruit of a unique terroir with its clay-limestone soil, fresh and humid, particularly suited to ripening grapes…
Very soon after taking over from his father, Xavier Doublet decided to renovate it… And to focus on quality by increasing the density of his vines and controlling yields. Today it covers nearly 18.5 hectares, of which 17 is in a single block… With 2/3 Merlot and 1/3 Cabernet. Forgotten grape varieties, like Petit Verdot, have also been planted here.
Its east-west exposure allows Château la Croix de Beaugas to take full advantage of the sun's rays, throughout the day and all year long. Made up of 65% Merlot, 25% Cabernet Sauvignon and 10% Cabernet Franc, it's an authentic Bordeaux with a dark, intense red colour, classic and modern at the same time, as Xavier likes to say…
A wine made with passion with an elegant profile.
A reflection of the history of the terroir that produced Château La Croix de Beaugas, it's also the fruit of the most modern winemaking techniques. A link between the ancient and the new world… Hence, part of the blend is aged in oak in order to add complexity to its aromas. It can be enjoyed immediately, can just as easily find its place in the cellar for ageing. A Bordeaux of great quality, it is distinguished by the elegant and sober label.
It is a tannic wine, with a nose of ripe fruit and notes of fresh fruit. Full on the palate, round, powerful and aromatic… A lightly oaked wine but perfectly balanced which, corresponds to the expectations of today's consumers. An "honest" wine and with character, in reality it is just like the passionate rugby enthusiast who produced it… quite simply!