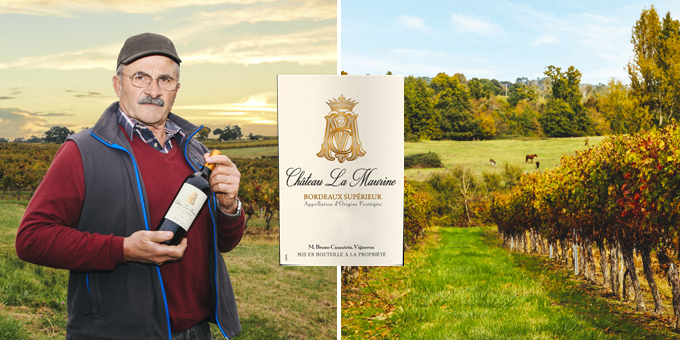 Portrait of
Bruno Cazautets
Owner of CHATEAU
LA MAURINE
Welcome to Cleyrac (Clairac in Gascon) a village of 150 inhabitants and more exactly to La Mondette… It is here, in the heart of the Bordeaux vineyard about twenty minutes from Saint-Emilion, that Bruno Cazautets lives and works.
Who is M. Cazautets ?
Representing the fifth generation of winegrowers, Bruno Cazautets is at the head of an 80-hectare estate (70 red and 10 white). For him, and indeed for his wife, wine is a family affair. A passion that has been passed on from father to son. His paternal grandfather was one of the founders of the cooperative cellar. And he was also its President for 25 years. Let's just say that love for the vine flows in Bruno Cazautets' veins, and in 2014 he created Château La Maurine.
What are the vineyard's characteristics?
Château La Maurine draws its character from a land steeped in history. A terroir with clay-limestone soils, but also rocky soils that bring a more mineral intensity to the wines. The region also contains limestone plateaux rising a hundred metres above sea level… Hence the term "haut-pays bordelais" (the high country of Bordeaux). Concerning grape varieties, we have chosen to associate Merlot, Cabernet Sauvignon and Cabernet Franc. The vines have ideal exposure to take full advantage of the sun. The entire production is sent to the cooperative cellar for vinification. Château La Maurine is then aged in barrels for a minimum of 6 months to develop all its bouquet and aromas.
What is the history of this chateau?
Le Château La Maurine est un vin de caractère… « porte étendard » du terroir qui lui donne naissance. À l'image de son nom qui nous renvoie au passé de Sauveterre-de-Guyenne, située à cinq petites minutes de Cleyrac, où se trouve le château.
Fondée en 1281 par Édouard Ier, roi d'Angleterre et duc d'Aquitaine, Sauveterre resta anglaise jusqu'en 1320. Elle changea plusieurs fois de mains avant de devenir définitivement française en 1451. Les combats furent nombreux tout au long de son histoire à tel point que l'on disait à l'époque : « Saoubeterre. Bille de guerre. Lou qui es pas passat. N'es pas boun soldat ». Autrement dit… « Sauveterre, ville de guerre. Celui qui n'y est pas passé, n'est pas un bon soldat ». Mais les français et les anglais ne sont pas les seuls à s'être battus pour conquérir Sauveterre… Les Maures l'ont également assiégée. Et pour cela, ils avaient établi leur camp de base à l'endroit du lieu baptisé aujourd'hui… « Les Maurines », où se trouve le château !
What is your approach to sustainability?
Bruno Cazautets cultivates his vines and harvests his grapes with the support of experts from the cooperative. Aware of his impact on the environment, he made the choice to practise responsible and integrated viticulture as from 2005. "A decision that entails extra work but which fits in with our philosophy." Today, the entire vineyard is certified "Agri Confiance®", thus guaranteeing the qualitative, social and environmental value of Château La Maurine.
A wine made with passion with an elegant profile.
On tasting, we find all the notes, all the "ingredients" and all the characteristics that make up the history of Château La Maurine… The strength of its past, the richness of its terroir, the work and the know-how of its owner…
A Bordeaux Rouge Supérieur, it is distinguished, in particular, by its aromatic complexity with its expressions of well-ripened fruit, its floral and spicy aromas but also its oaky notes. Its intense red colour is a reflection of the passion of the winegrower who tends its vines. Its palate, full, tannic and round, is driven by power and balance. An authentic wine, Château La Maurine will satisfy connoisseurs and wine lovers alike. The château enhances the quality of the Producta Vignobles portfolio. Recognised for its values of authenticity and proximity.