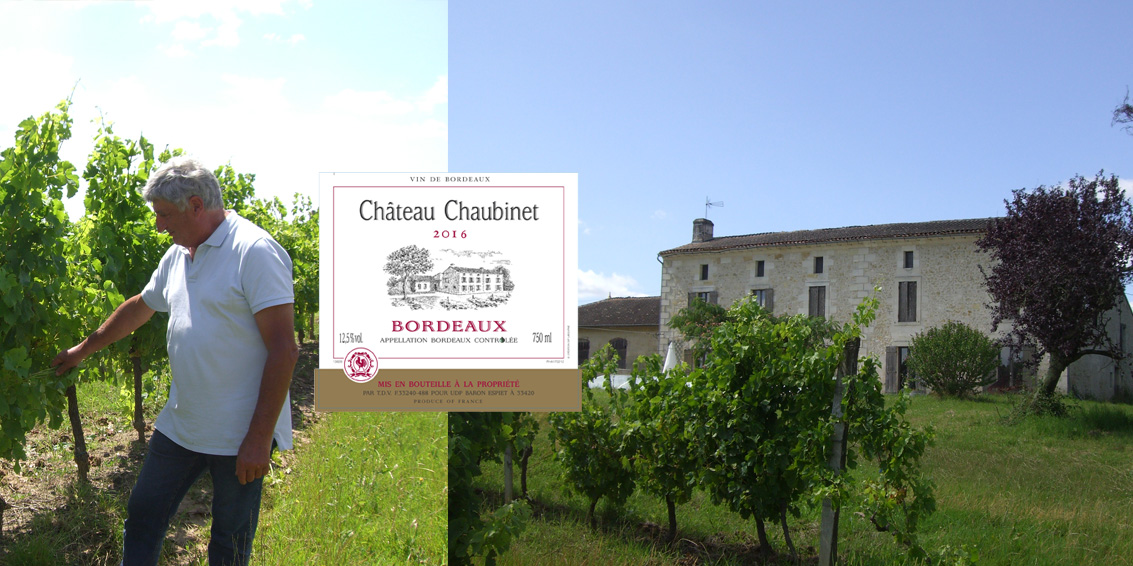 Portrait of
Jean-Michel Fossat
Owner of Château
Chaubinet
The vineyard of Château Chaubinet covers 135 hectares located in the communes of Camiac, Genissac and St-Germain-du-Puch. Merlot, Cabernet Franc, Malbec, Cabernet Sauvignon and Sémillon can be found here. All these varieties are grown on clay-limestone soils.
We went to meet Jean-Michel Fossat, owner of the château.
Jean-Michel, tell us about the history of Château Chaubinet.
"It takes its name from the squire Mathieu de Chaubinet. Born of a noble family, he lived in Camiac until the middle of the 18th century. I live in his house, which dates from 1615. I bought Château Chaubinet in 1978, but the vineyard has been in my family for several generations."
And is the cooperative also a family history?
"Indeed, my grandfather was a winegrower and a founder member of the Espiet co-op. My parents own Château de la Monteille. Today, I cultivate the vines at Château Chaubinet with my team of 3 employees. Producta Vignobles has taken care of sales on an exclusive basis since it was bought in 1978."
Why have your wine made by a cooperative?
"Since its creation, Espiet has been a pioneer in innovative winemaking and sustainable development, which allows us to get the best out of our terroir.
"The high-performance winemaking tools have allowed me to maintain the quality of my wine over all these years, which would have been more difficult with a private cellar. The cooperative is a real help for us winegrowers. I truly believe in this collective approach, which allows us to bring together the specific characters of each of our terroirs, and to create a rich and varied range of wines."
What is your approach to sustainable development?
"Our Château is 100% Agri-Confiance certified. This means that it meets the rules of integrated farming and the traceability from vine to glass that is required by this approach."
"As you can see, we do not use herbicides between the rows of vines, so as to preserve the ecosystem and more specifically the butterflies."
Jean-Michel, tell us a little about yourself…
"I am passionate about the history of my vineyard. If you visit the museum in Lignan de Bordeaux, you will be able to admire some flints discovered in my vineyard.
"I have practised volleyball for 30 years at a high level (quarter-finals of the French Championship). I am also a saxophone player and I sing in a local choir. I am involved in the economic and social life of the town and am also member of an association that helps job seekers get back to work."
As well as being sporty, musical and committed, Jean-Michel Fossat is also passionate about his vineyard and offers us quality, sustainable wines.