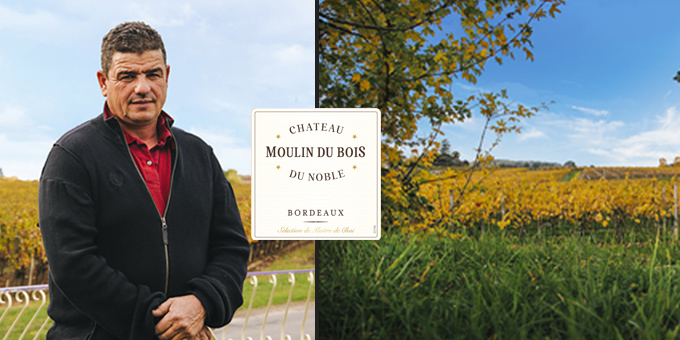 Portrait of
Laurent Guillon
Owner of CHÂTEAU
MOULIN DU BOIS DU NOBLE
This Bordeaux vineyard of 13 hectares, located at height, has a stunning view over the village of Saint-Émilion.
During our visit to the château, under wonderful autumnal colours, owner Laurent Guillon shared its history with us.
Laurent, can you tell us about the origins of this château?
"It has been a family history for 4 generations! After the Second World War, my family started to buy vineyard plots. My uncle created the Château in 1989, following the grouping of the Moulin à Vent and Bois du Noble plots, which gave rise to the name Château Moulin du Bois du Noble. It is made up of 95% Merlot and 5% Cabernet Franc. On top of that, the cooperative spirit is important to us. We have always been part of the Nérigean co-op."
What you're describing is a family passion. Was it always your vocation to be a winegrower?
"No, I first studied to be a fitter, and worked in the public sector for 18 years. It was not until a few years later that I decided to take over the family vineyard and expand it. But it was my father who gave me a love for the vineyard, since my childhood. I was already driving a tractor at the age of 10, and I have never been too far from the vineyard!"
What are your future projects?
"These mostly clay-limestone soils, located at height, give a fine structure to the wine, and an intense colour. For 2019, I want to continue restructuring the vineyard with the Merlot and Cabernet Sauvignon grape varieties."
There is a lot of talk now about organic wine. What is your opinion on this subject?
"It's an interesting project in the long term. Once the techniques are more developed, why not? I have already started on an environmentally friendly approach, with confined spraying in the vineyard."