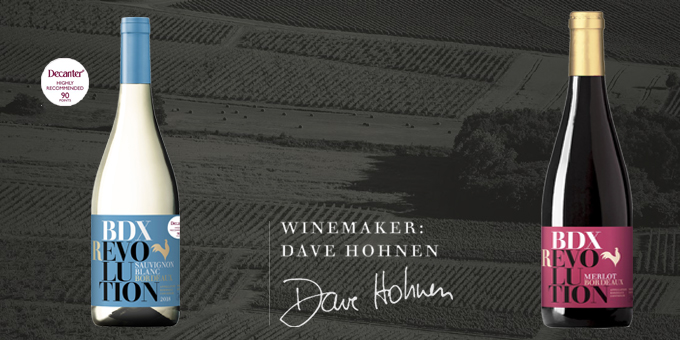 BDX REVOLUTION in collaboration with David Hohnen
Bordeaux is one of the largest and most prestigious wine growing regions in the world. Vines were first planted in Bordeaux by the Romans, and the resulting wines have been exported to Britain since the 12th century. The region's vineyards are composed of a limited number of red and white varieties, the result of centuries of discerning selection and improvements. Bordeaux now produces a large percentage of the world's highest quality wine.
PARTNERING STRENGTHS AND INNOVATIONS OF FRENCH AND AUSTRALIAN WINAMAKING
Producta Vignobles of Bordeaux and Crackerjack Wines of Western Australia began an informal partnership in 2018. Our goal is to combine the strengths and innovations of French and Australian winemaking to create exciting new choices for consumers around the world.
We are working with one of our wineries, in the heart of the largest sub region of Bordeaux, the Entre-Deux-Mers. The landscape is defined by an elevated ridge of hills between the Garonne and Dordogne rivers, at their confluence in the Gironde estuary, 90 kilometres from the Atlantic Ocean.
Australian winemakers are in familiar territory in the vineyards of the Entre-Deux-Mers. The vines share the spacing, trellis and pruning systems almost similar to New Zealand and southern Australian vineyards. These systems ensure maximum sunlight exposure for leaves and berries, free air movement, and therefore a low risk of botrytis. Cropping levels are a modest seven tonnes per hectare. This concentrates aromatics and flavour.
UNMISTAKABLY CONTEMPORARY, APPROACHABLE WINES FOR A NEW ERA
Our winemakers have embraced change and adopted innovative wine making techniques. French engineers have designed some of the world's best harvesting machines, allowing for precise timing
of the harvest – integral to making wines with freshness and early drinkability. Our winemakers have embraced change and adopted innovative wine making techniques.
David Hohnen is one of the professionnals who bring to Producta Vignobles a range of experience and expertise relevant to Producta Vignobles's ambitions to produce contemporary Bordeaux wines for wine aficionados, who might not have considered purchasing Bordeaux wine. Younger people and women in particular.