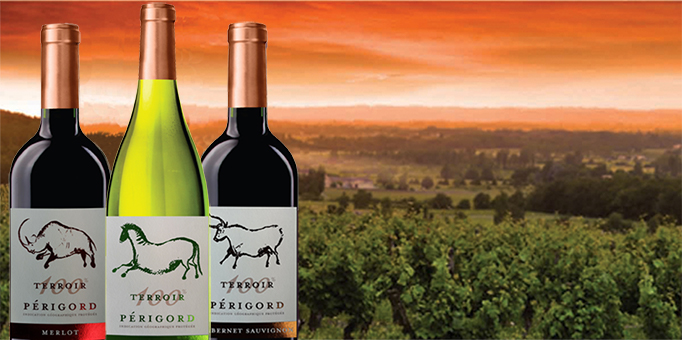 Perigord, the Cradle of Civilisation
In wine, as in all things, tastes change, fashions fade and consumers swap allegiance with increasing frequency. Yesterday oaked Chardonnay, today New World wine, tomorrow… Périgord IGP. 
PERIGORD, CRADLE OF HUMANITY
Our range evokes the origin and the art of living, founded on firm beliefs . . . those of gastronomy, quality and terroir. . .
The Périgord or Dordogne department is one of the largest in France. Of rare diversity, its large valleys, its havens, its uncountable watercourses and forests thus welcomed Homo sapiens and made Périgord the cradle of civilisation.
Ideally situated on the slopes of the Dordogne valley, sheltered from the influence of the ocean, the vineyards benefit from a particularly favourable climate giving rise to pleasurable, elegant and authentic wines, given variety and richness by the diversity of the landscapes. From this terroir are born PGI Périgord wines.
PERIGORD IGPs, THE WINES OF THE MOMENT
IGPs are round wines and easy to drink.
The range of grape varieties offers a large palette of tastes.
The predominance of fruit gives them a fine structure.
Advantages: supple, round and indulgent, perfectly meeting consumers' expectations.
Périgord PGIs offer a garnet colour, red fruit on the nose and discreet notes from ageing. Supple on the palate, with good concentration and a hint of oak. It is a wine that can be drunk young. Sauvignon develops aromas of box wood and citrus fruit. Delicious on the palate & aromatic. All consumers can find their preferred profile thanks to the blends and the single varietals.
A UNIQUE CONSUMER EXPERIENCE
For a unique and convivial experience, we offer a full range:
Merlot,
Cabernet Sauvignon
Sauvignon
The labelling is elegant and striking and the packaging ensures visibility on the shelf. Let's discover our selection who explains the richness of this region, whose traditions are anchored in the French art of living.