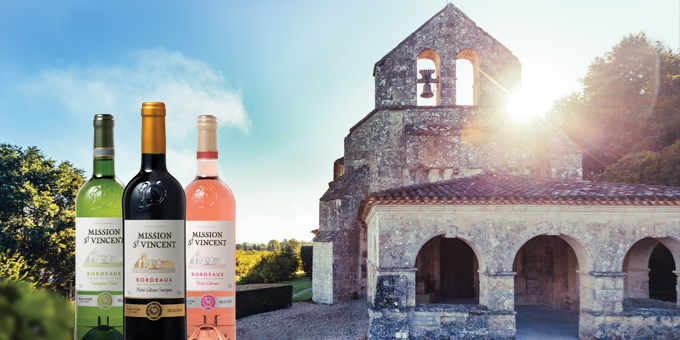 Mission St Vincent, authentic Bordeaux
Origin of the brand: Created in 1980 by a group of winemakers native from Entre-Deux-Mers, the brand suggests teamwork and terroir attachment.

The story of Saint Vincent goes back to the days of the Roman Empire, but it was in the Middle Ages that winegrowers chose Saint Vincent as their patron saint to represent them socially and religiously. Legend has it that Saint Vincent was chosen because the first syllable of his name is none other than "vin", the French word for wine. Saint Vincent's day is 22 January, the traditional day for the start of pruning.
A "mission" is a type of religious building from the 12th century, found especially in the Bordeaux region.
The missions were the resting places for pilgrims who trod the Way of Saint James.
Today the Pilgrims' Way includes several itineraries in Spain and France.
The pilgrimages are no longer purely religious but also a means to learn about the history and the regions along the way.
Discover our range of Bordeaux rosé, white Bordeaux 100% Sauvignon and Bordeaux red, in Mission St Vincent Facebook page, and in the dedicated website: missionstvincent.com.