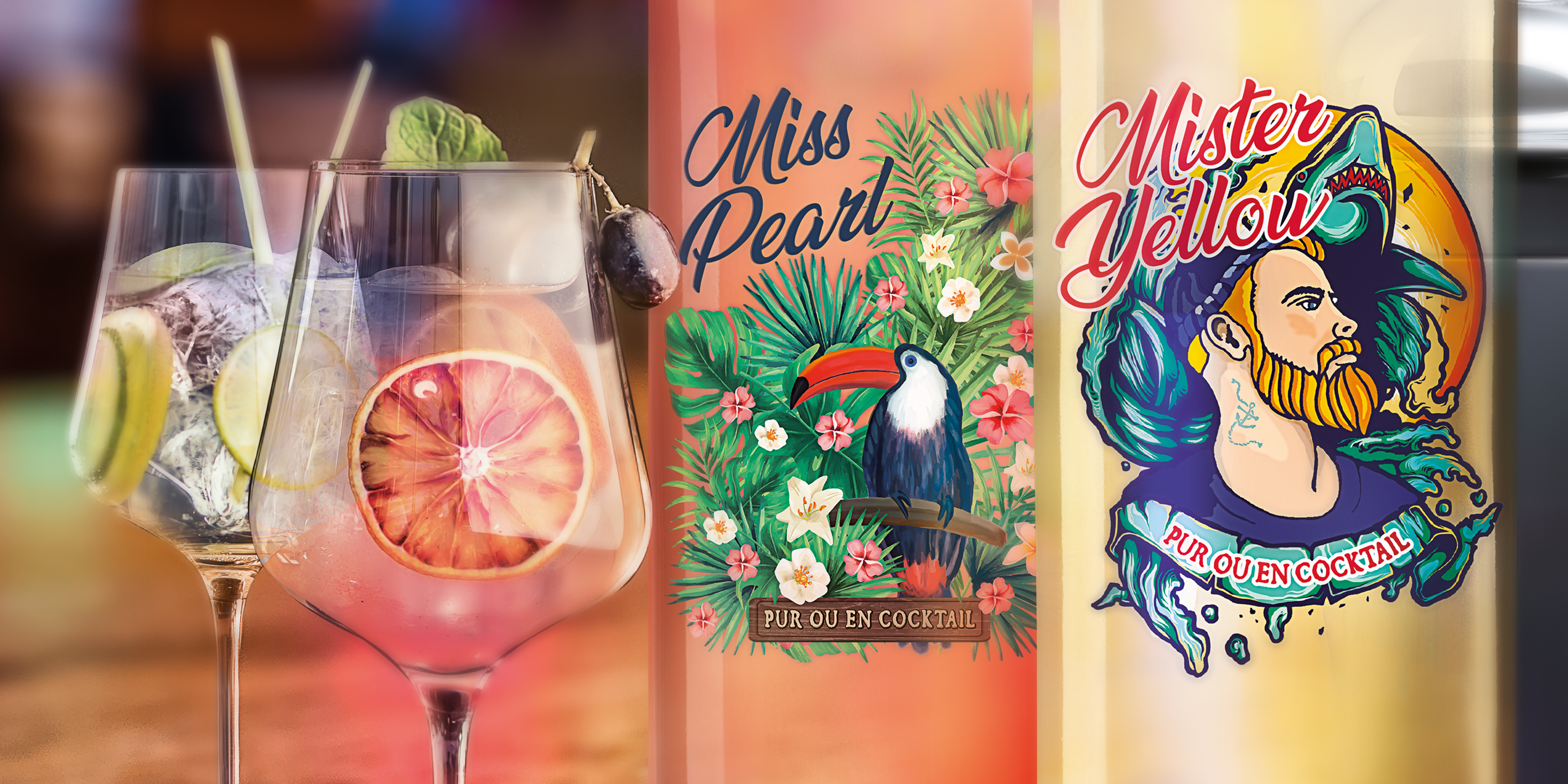 MISTER YELLOW & MISS PEARL – Neat or in a cocktail
We're offering a new way of consuming wine with a "neat or in a cocktail" range
MISTER YELLOW : MILLENIALS' COCKTAIL
Mister Yellow, our new Côtes-de-Bergerac Moelleux, has a design that appeals to beer-drinking men aged 18 to 24. Its soft and fruity aromas will be appreciated by millennials, who can enjoy it neat or in a cocktail, especially as an aperitif. The wine's striking name, its differentiating and up-and-coming packaging, and its serving suggestions make for an innovative combination that brings a new dimension to our traditional appellations.
MISS PEARL : APERITIF WINE
As for Miss Pearl, an IGP rosé, it targets women aged 18 to 39. Representing 70% of survey respondents* who consume and buy wine, they also appreciate it as an aperitif, fresh and light. The modern floral packaging reflects one of the latest design trends. As for serving suggestions, Miss Pearl can be enjoyed with tonic water, which will blend perfectly with the exotic profile.
COMMUNICATION
To launch this range, we are putting in place a digital communication plan. We will be targeting wine-loving Internet users in search of discovery, but not millennials. The objective of this range is to win over new consumer profiles by orienting our message around consumption as an aperitif and in a cocktail. We are therefore planning to have our campaign supported by influencers. #MisterYellowCocktail and #MissPearlCocktail will be the tags for our online viral marketing.
The products will be available for listing in your stores as from March 2020. For further information, don't hesitate to contact our teams!
*Producta Vignobles survey of 60 people aged 18-39.