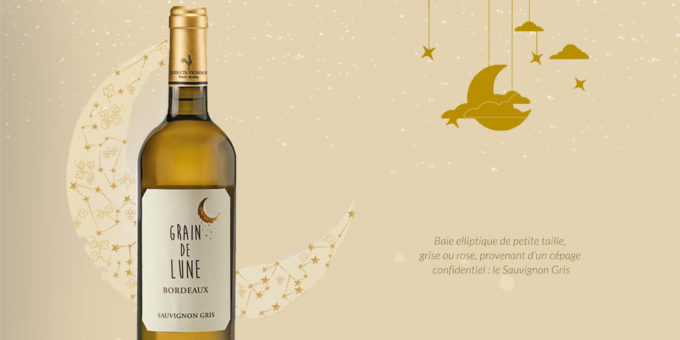 GRAIN DE LUNE – 100% sauvignon gris
Grain de Lune, a Bordeaux white with a poetic universe !
A REFINED AND AUTHENTIC GRAPE VARIETY
With our white Bordeaux Grain de Lune explore Sauvignon Gris, an exclusive, refined and authentic grape variety.
Resulting from a very ancient mutation of Sauvignon, the uniqueness of Sauvignon Gris is found in particular in the colour of its berries small size. Grey or pink, the skin of the grape gives its unique colour to the wine, that of the moon on a clear night.
By rehabilitating this ancient grape variety, probably originally from Poitou, we are expressing real differentiation, while highlighting the approach to preserving our heritage.
A 100% SAUVIGNON GRIS
Grain de Lune is a 100% sauvignon gris. This grape variety has the characteristic of ripening relatively late and producing wines with a lighter acidity than Sauvignon Blanc. This wine can be served at between 10 and 12°C as an aperitif or to accompany fish or soft cheeses.
The label, coloured using mineral pigments of natural origin, signifies the authenticity of this unique wine.