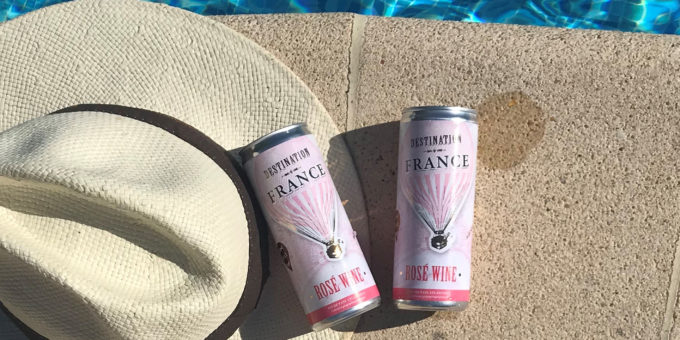 Wine in a can, fun and modern packaging!
In 2019 Producta Vignobles launches wine in a small-size can.
Producta Vignobles is branching out with the new experience of wine in a small-size can. Paying close attention to changes in the market and consumption trends, we are trying out a new breakthrough product package.
Product packaging and wine, in constant evolution.
Since its creation, the specific containers used to package wine have changed (gourd, flask, barrel, vat, bottle, bag in box…). Today, changes in society and consumption patterns constantly lead us to think differently. With this in mind, why shouldn't wine in a can be a format for the future?
Packaging in a can is still something very new in France, yet it turns out that it gives the image of a fun wine. Wine in a can: a modern way to consume.
This modern product package has certain qualities :
– Because it's opaque, it protects the wine from light and makes it easier to preserve.
– The taste of the wine remains unchanged, because the can has a special coating that prevents any contact between wine and aluminium.
– It can also be seen that its size (250 mL) prevents waste.
– It is made of recyclable materials.
– And transport and storage are much easier.
This packaging will not replace the bottle, but it can accompany changes in consumption patterns. We have noted that consumption of wine in small-size cans is common among young adults abroad. In the United States and Japan, there is a buzz around different consumption patterns and innovative product packaging. Generation Ys want to stand out from their parents – and to show it.
An original aperitif? Our wine in a can might surprise you!
Discover our summer rosé in a modern and different format: DESTINATION. DESTINATION, an innovative and modern French rosé. What are the advantages of our rosé wine – with its Protected Geographical Indication (IGP)?
DESTINATION, our rosé wine is served chilled. Fruity, this wine in a can is ideal for summer picnics and barbecues. It offers an expressive nose of fresh fruit. Lively on the palate with body, full and aromatic. With DESTINATION, enjoy a fruity, elegant, well-balanced wine carried by its freshness.
The top 5 food-wine pairings ideal with the can!
Its subtle aromas are a perfect match for :
– Seasonal salads
– Skewered meat
– Fish a la plancha
– Grilled meat
– Seafood
Our DESTINATION wine in a can is growing in the market. Mostly present on export markets for the moment, don't hesitate to contact us to find out where it's sold or follow the life of our products on social networks!