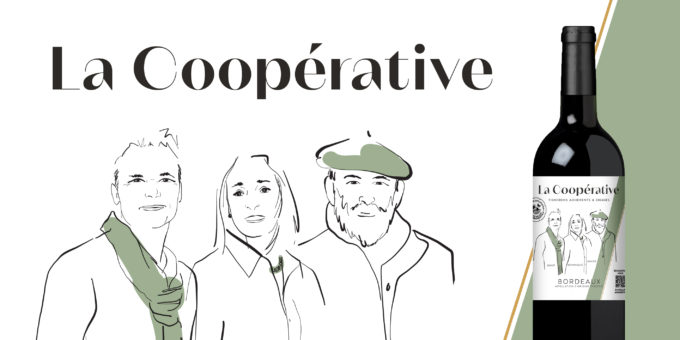 LA COOPERATIVE, A COMMITTED WINE
Committed to our teams, our cellars and our growers, we wanted to display the values of cooperation loud and clear with our new committed and connected cuvée, LA COOPERATIVE!
AN AMBASSADOR FOR COOPERATION
What is a coopérative?
In addition to being a community sharing solution for winegrowers, a cooperative boosts the local economy. It guarantees sustainable economic activity, and professional and community life in rural areas. Sustainable and inclusive, our wine represents this commitment. But LA COOPERATIVE also makes an environmental promise. With HVE3 (High Environmental Value) certification, this cuvée meets the requirements of environmentally friendly agriculture.
How to justify our commitment?
To best represent this promise, three of our member winegrowers have volunteered to represent this brand. Dominique, Benoît and Xavier have also lent their images – reproduced on the wine's label. But they also speak!
TECHNOLOGY AND WINE, A NEW PAIRING 
Augmented Reality: a major asset!
The other thing different about this wine is its augmented reality. This technology brings to life the three growers portrayed on the label. They take the floor and demonstrate their commitment while presenting the wine.
How does it work?
Today's consumers wants transparency. They want to have as much information as possible about the origin of the products they buy. With this technique, consumers discover who produces this wine, by scanning the label on the shelf. This demonstrates the quality and transparency of wines from cooperatives.
Thanks to LA COOPERATIVE, we point out that cooperative wines are quality wines. We explain that they are made by growers whose values are commitment, solidarity and respect for the environment. In order to further the concept and develop the message, we will regularly renew the augmented reality content.
To test this concept, just download the SmartBottle app, scan the label, and the growers will come to life. Get onto your smartphones!