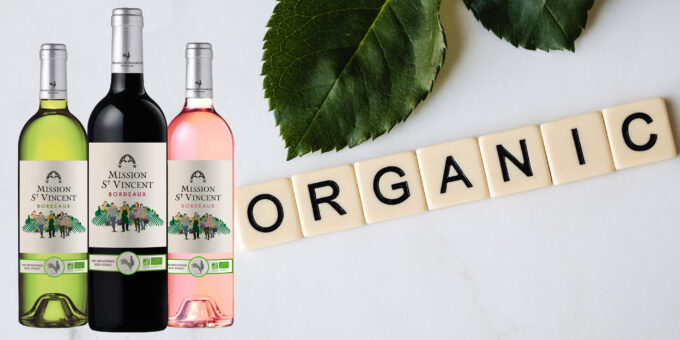 New packaging for MISSION ST-VINCENT BIO
A brand with historical values
Vines have been planted in the region since the Roman era. It is at this time that St. Vincent becomes the patron saint of winegrowers. Since then, each Saint Vincent's Day (22 January) has been an unmissable date for winegrowers, who come together to start the winter work in the vineyard
Deux-Mers is dotted with Romanesque churches and  "bastides". Also known as Missions, these buildings have long been gathering places for winegrowers.
From these two symbols, the Mission St-Vincent brand was born in 1980. Today, this range has become an emblem of the Bordeaux Appellation.
An organic range, characteristic of AOP Bordeaux
The wines of Bordeaux Mission Saint-Vincent represent the perfect combination of tradition and novelty. After the launch of the conventional range, the winemakers of Mission St-Vincent have developed an organic range. vailable in Bordeaux red, white and rosé this selection was elaborated from grapes meeting the requirements of organic regulation. The sulphur content is limited and the additives used comply with the list of authorised winemaking products.
Organic vineyard management is based on a global approach and on maintaining a balance between vine, soil and environment. The Mission-St-Vincent organic range responds to many advantages:
– Organic Wines

– Reduce Carbon Footprint
– Ecodesigned packaging

– Codes modernes et rassurants
– Lightweight bottle

– Highlighting of the ambassador winemakers on the packaging

– Augmented reality soon !

– Range extension with BIB 2,25L Bag in Box to adapt to consumers' expectations and thus offer a complete range of colors and formats.

To discover the other products of the Mission St-Vincent range, please visit the Mission St-Vincent website or contact our team via the contact form.