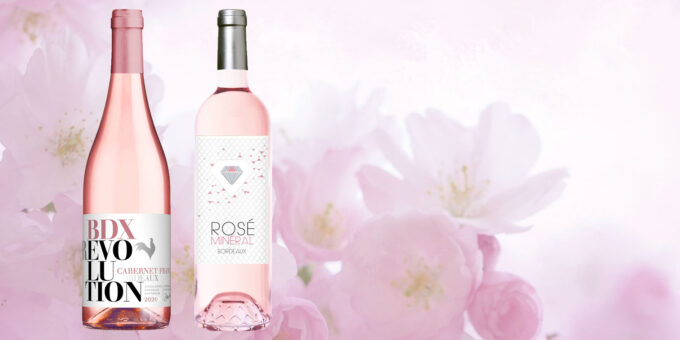 NEW BORDEAUX ROSÉ WINES
With their extensive know-how, our Bordeaux cellars and vineyard teams excel in the art of blending red Bordeaux, white Bordeaux, crémant de Bordeaux and rosé Bordeaux! This year, two new AOC Bordeaux rosé wines make their appearance in the Producta Vignobles portfolio. They are BDX REVOLUTION and ROSE MINERAL.
BDX REVOLUTION, THE NEW OPUS SIGNED BY HOHNEN
The Bordeaux vineyard is known for the quality of its red wines. Nevertheless, our teams also have extensive expertise in making AOC Bordeaux rosés. The richness and quality of these wines are based on the typical character of the terroirs and human experience.
A rosé, to complement a modern range
Launched in 2018, the BDX REVOLUTION range is expanding in France and on export markets. Initially offered as a 100% Sauvignon Blanc Bordeaux white, the range was extended in 2019 to include a Merlot Bordeaux red. Today, we aim to meet market expectations by offering a 100% Cabernet Franc Bordeaux rosé.
For this new listing, we have kept with the modern and ground-breaking identity of the brand. With its Burgundy bottle, its pastel colours, its single-varietal claim and its striking name. The BDX REVOLUTION brand ticks all the boxes for success in the rosé market!
Still produced in collaboration with the famous Australian winemaker David Hohnen, BDX REVOLUTION is a combination of French and Australian know-how. The range is thus an innovative and original concept, meeting the expectations of consumers around the world.
The advantages of BDX REVOLUTION rosé
Dave Hohnen found characteristics that were familiar to him in the heart of the vineyard selected for this wine. Maximum sunshine for the proper development of the leaves and berries, good air circulation and controlled yields to preserve the aromas.
The team chose to offer a single varietal Cabernet Franc rosé. Not only is it one of the oldest Bordeaux grape varieties, it is also less rich in tannins than Cabernet Sauvignon. It thus gives paler rosés, fresher and more fragrant. This grape variety fits the bill perfectly.
How to enjoy this wine
This wine has an attractive pale pink colour with rose-petal tones. It reveals a nose of flowers and small red fruits. This fruit-driven wine has lively and round aromas, fruity and elegant on the palate. Fresh and modern, it is ideal for aperitifs and sunny outdoor dining. It's also perfect for summer lunches.
ROSE MINERAL, THE DELICATE CUVÉE
Origin of the product
Our second rosé launched in 2021 is ROSE MINERAL. With its feminine concept that borrows features from the world of jewellery, Rosé Mineral is perfect for all lovers of rosé wine. Mineral = a noun and an adjective, connecting the world of precious gems with that of wine.
A global concept, reflected in the bottle, with its diamond-embossed punt, the name of the product, the label, and the pure and elegant taste of this wine.
Plus points
Cabernet Franc is one of the oldest Bordeaux grape varieties. Its organoleptic properties perfectly match the concept. A rosé wine that is less tannic than Cabernet Sauvignon, giving a pretty pale pink colour to the wine. Its fresh, fragrant and fruity profile is also a real plus for this feminine and delicate wine.
With its attractive pale pink colour with rose-petal tones, this wine unveils a nose of flowers and small red fruit. This fruit-driven wine has fine rounded aromas, with delicate flavours on the palate. This fresh wine is ideal for summer lunches and dinners and is also perfect for aperitifs by the beach or swimming pool.
To find out more about our range or have a broader view of our offer, don't hesitate to contact our sales team!